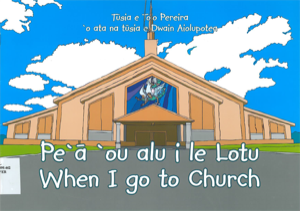 When I go to Church: Pe'ā 'ou alu i le Lotu
by Tolo Pereira
Porirua, New Zealand: Samoan Early Education Development Services Ltd (SEEDS)
ISBN: 9780473168841/0473168847
 Illustrated beautifully using bright, simple images, this book tells the reader about what it is like when a young Samoan girl goes to church each week. The language is simple and repetitive, making it ideal for children learning to read, as well as pre-schoolers. The text is provided in both English and Samoan.
This book was nominated for its large, glossy presentation and because it promotes the language of Samoa. It was also nominated because it presents Samoan culture in a very accessible way, and because children can easily relate to the ideas in the book.
A New Zealand Curriculum-linked  activity for this picture book  can be found here.
If people are interested in purchasing 'Samoana Early Education Development Services Ltd publications please visit www.seedschildcare.co.nz