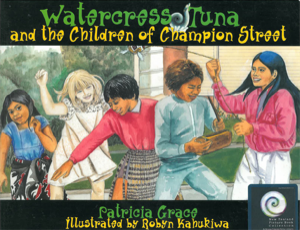 Watercress Tuna and the children of Champion Street
 by Patricia Grace
A tuna (eel) with a magic throat travels to Champion Street and presents gifts to the children who live there. The gifts all represent the children's own cultural heritages – a kie for Kelehia and a hau for Kava (Tokelauan); a piupiu for Hirini and a poi for Roimata (New Zealand Maori); a pate for Tuaine and a pareu for Nga (Cook Island Maori); an ula for Losa and an ailao afi for Fa'afetai (Samoan). The theme of this story is Pasifica, with  four key Pacific cultures being represented within the story. Grace also alludes to gender roles within each culture, by assigning gender-specific "gifts" from the tuna. In the illustrations, Champion Street is a typical inner city New Zealand street, with compact state housing and power lines.
This book was recommended because it "captures the history, and the people …" of an authentic community, and because it represents the culture and dance of a variety of Pacific cultures. It was also nominated because it's a book that has been well-loved by her own children and because it tells the reader some "really specific things about different cultures".
A New Zealand Curriculum-linked  activity for this picture book  can be found here.