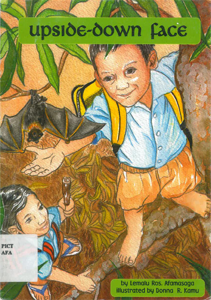 Upside-down Face (Ulu ū l Lalo)
by Lemalu Ros. Afamasaga
Available in both English and Samoan translations, this story tells of how Simi and Susi find and help a baby bat on their way to preschool. The book is beautifully illustrated using images from the Pacific – flax woven mats and hibiscus flowers.
This book was nominated for the collection because, although it is a simple story, it accurately illustrates what life is like for children in Samoa.
A New Zealand Curriculum-linked  activity for this picture book  can be found here.