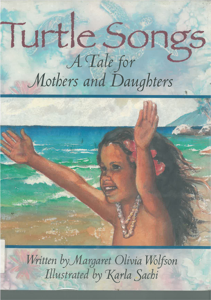 Turtle Songs: A Tale for Mothers and Daughters
by Margaret Olivia Wolfson
Oregon, USA: Beyond Words Publishing, Inc.
ISBN:1885223951/9781885223951
This is an ancient myth from the island of Kadavu in Fiji. Beautifully written and illustrated in watercolours, it tells the story of a princess and her daughter Rani, who spend their days fishing  and day dreaming of being beautiful sea turtles. When two men appear in a boat one day and kidnap them, the princess and Rani call out to the sea god through their song.  Hearing their call, the sea god magically turns them into sea turtles, so they can escape back to their own island. This myth highlights the ancient tradition of using song to communicate with ancestral spirits and the forces of nature. It also demonstrates the strong bond between a mother and daughter. This book was nominated for the collection because it is beautifully illustrated and captures the relationship between mother and daughters, and because it is an important legend in Pacific culture.
A New Zealand Curriculum-linked  activity for this picture book  can be found here.