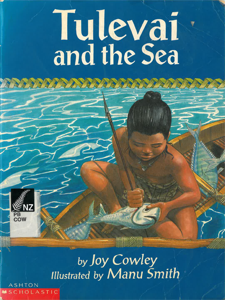 Tulevai and the Sea
by Joy Cowley

Tulevai and the Sea is a legend about the great love between a mother and her son, set on an island in the Pacific. When Tulevai is captured by the sea, his mother is so desperate to get him back that she summons up such immense strength that she is able to push the sea back until she finds him. The book is beautifully illustrated by Manu Smith, using water and spirit-based markers, and the pictures show traditional images of the Pacific Islands.
This book was nominated for the collection because of its use of Pacific mythology in the story and its beautiful illustrations, as well as its theme of love and connection between a parent and child.
A New Zealand Curriculum-linked  activity for this picture book  can be found here.