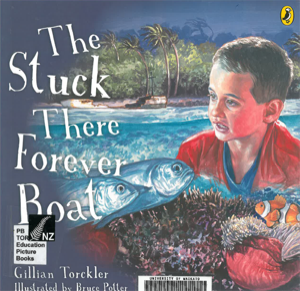 The Stuck There Forever Boat
by Gillian Torckler
Auckland, New Zealand: Puffin Books
ISBN: 9780143502692/0143502697
This story was inspired by the Tuvaluan people, whose low-lying island nation is under threat due to the rising sea levels associated with global warming. This story highlights the human dimension of the effects of global warming on families, as we read of Tama and his Nanny coming to grips with the sad possibility of having to leave their cherished island to find a new home elsewhere.
The book has been beautifully illustrated in watercolours by Bruce Potter.
This book was nominated for its beautiful illustrations, as well as being " … a nicely told story …of rising sea levels and global warming. And… it shows in a very simple way some of the passion, feeling for their lands …" .
A New Zealand Curriculum-linked  activity for this picture book  can be found here.