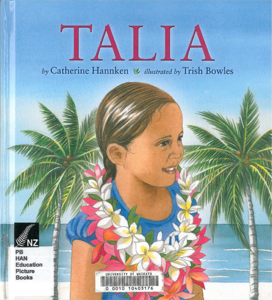 Talia
by Catherine Hannken
Illustrated by Trish Bowles
Wellington, New Zealand: Mallinson Rendel
ISBN: 9781877423307/1877423300
Talia is a young Samoan New Zealand girl, who is visiting Samoa with her dad for the first time. The story tells of her initial hesitation about meeting new family members and joining in the Samoan way of life, as she struggles to make sense of a new language and culture. With the help and support of her dad and a friendly older cousin called Leilani, Talia soon warms to the Samoan way of life. She finds ways to communicate using Samoan and English, as well as non-verbal ways of communication. By the end of the story, Talia decides that maybe her holiday in Samoa will not be so bad after all! Illustrator Trish Bowles has created some beautiful watercolour images of Samoa – coconut trees, tapa designs, frangipani and beach scenes.
Talia was nominated for the collection because of its true-to -ife story, which many Samoan New Zealand children can relate to. It was also nominated because of the book's beauty, and the vibrant illustrations.
A New Zealand Curriculum-linked activity for this picture book  can be found here.