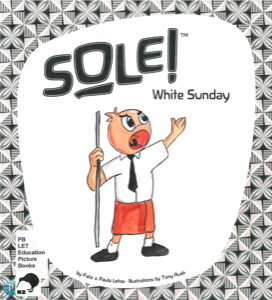 Sole! White Sunday
by Fata & Paula Letoa
New Zealand: Paua Publishing
ISBN: 0958240833/9780958240833
This is the story of young Sole, who is preparing for White Sunday – a special annual day at his church, which celebrates children. Sole explains the significance of White Sunday for him and his Samoan culture, and describes how he must prepare a bible reading in Samoan – which takes FOREVER to learn!
The simple text and cartoon images by Tony Rush give the book great appeal for children.
This book was nominated because of its appeal for children, and its focus on a child who is involved in his Samoan culture. It was also nominated because of its use of the Samoan language.
A New Zealand Curriculum-linked  activity for this picture book  can be found here.