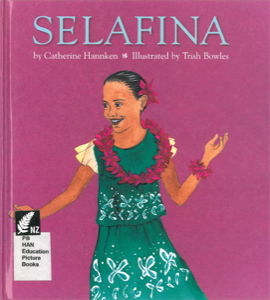 Selafina
By Catherine Hannken
Illustrated by Trish Bowles
Wellington, New Zealand: Mallinson Rendel
ISBN: 0908783744/9780908783748
Set in Auckland, New Zealand, this story tells of a young Samoan girl, Selafina, who is about to celebrate her tenth birthday. In honour of her Nana, who is visiting from Samoa especially for the occasion, Selafina learns to dance a siva to perform at her birthday party. This story reinforces the themes of culture and family, as well as promoting the value of fa'a malosi – finding strength in a difficult situation. It is beautifully illustrated in watercolour by Trish Bowles, with images from both Samoa and New Zealand.
This book was nominated because of its focus on the importance of intergenerational links, as well as the value placed on the Samoan siva dance.  It was also nominated because of its themes of family and closeness, and for its use of Pasifika themes in the illustrations – such as the frangipani flower on the cover. It was also nominated because it is the story of "a New Zealand Pasifika child who … finds her Samoan culture comes alive in her personal relationships with her grandmother." (Rob). This book was selected as a Notable Book in the Children's Literature Foundation of New Zealand Awards, and was shortlisted for Best Picture Book in the New Zealand Post Book Awards (2004).
A New Zealand Curriculum-linked  activity for this picture book  can be found here.