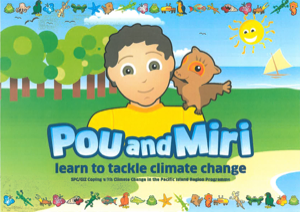 Pou and Miri Tackle Climate Change
by Dom Sansom
Fiji: Secretariat of the Pacific Community
ISBN: 9789820004955/9820004950
A story about a young boy, Pou, who lives on Iteni Island in the Pacific.  One day he meets Miri – a fruit bat who has lost her home when a forest is chopped down to make way for a new road. Pou sets out to help Miri find her mother and a new home, and along the way he learns a great deal about how to tackle climate change. Key messages in the story are:
reduce the cutting down of forests
stop burning forest and bushland
walk or cycle instead of travelling by car or bus
practice agroforestry (putting plants and trees together on purpose to maximise growth potential)
keep soil covered with trees and vegetation, especially on slopes
look after and protect our mangroves
keep coral reefs healthy
This book was nominated because it tackles issues of global warming.
A New Zealand Curriculum-linked activity for this picture book can be found here.