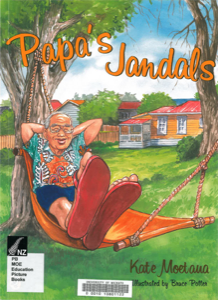 Papa's Jandals
by Kate Moetaua
Auckland, New Zealand: Puffin Books
ISBN: 9780143504221/0143504223
Papa's Jandals is a hilarious story about Junior and his Papa's treasured jandals. Cheeky Junior is always stealing his Papa's enormous jandals, which fit his big feet perfectly as well. However, one day he loses them and sets off around town to try to find them, knowing that he will be in lots of trouble if he has lost them for good. Just when it seems like he has looked everywhere, he finds Papa's jandals in the most unlikely of places. This is a story about families working together and having fun, with a real Pacific Island flavour. The story is cleverly illustrated using bright, cartoon images by Bruce Potter, which perfectly support the hilarious text.
This book was nominated for the collection because of the authenticity of its story and characters – for example, Junior's "energy", as well as the jandal-wearing Grandad and his special relationship with his grandson.
A New Zealand Curriculum-linked  activity for this picture book  can be found here.