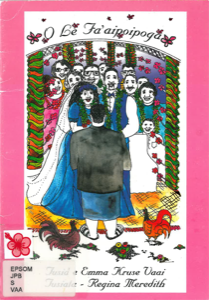 O Le Fa'aipoipoga
by Emma Kruse Vaai
Apia, Samoa: Niu Leaf Publications
ISBN: 9789829071187/9829071189
Written in Samoan language, this book tells the story of a traditional Samoan wedding. The bright colourful water colour illustrations show classic scenes of a Saoman village getting ready for a wedding celebration – feeding the chickens, mowing the lawns and sewing the wedding clothes… as well as some less classic scenes – like when the groom gets a flat tyre and is late for his own wedding!
This book was nominated because of its interesting illustration and it shows the Teuila (ginger plant) – Samoa's national plant. It is a great representation of what a Samoan wedding is like.
A New Zealand Curriculum-linked  activity for this picture book  can be found here.