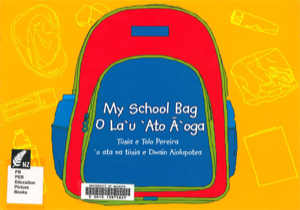 My School Bag: O La'u 'Ato Ā'oga
by Tolo Pereira
Porirua, New Zealand: Samoan Early Education Development Services Ltd (SEEDS)
ISBN: 9780473168865/0473168863
Illustrated beautifully using bright, simple illustrations, this book takes the reader through an every-day experience of packing their school bag with Mummy. The use of simple, repetitive language makes this an ideal book for beginner readers and pre-schoolers. The story has a twist at the end, when Mummy does not notice the young boy slipping his favourite toy into his bag as well!
The text is given in both Samoan and English.
A New Zealand curriculum-linked activity for this book can be found here.
If people are interested in purchasing 'Samoana Early Education Development Services Ltd publications please visit www.seedschildcare.co.nz