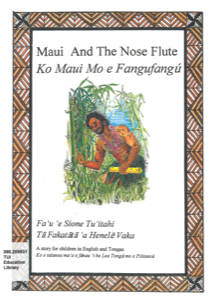 Maui and the Nose Flute
by Sione Tu'itahi
Auckland, New Zealand: PIERC Education
Written in both Tongan and English, this picturebook tells the legend of Maui from long ago and how he brought the secret to the wisdom of the gods to Tonga.
Maui discovered that the secret lay in the beautiful music of the nose flute. So, stealing a piece of bamboo from Pulotu, the island of the gods, Maui fashioned it into a nose flute and escaped. Although the gods tried to stop him with four strong winds and an enormous shark, Maui survived and taught the people of Tonga about the secret. This story was nominated because it is one of the few books which represent Tongan culture, and the nose flute has a particular connection with Tonga.
A New Zealand Curriculum-linked activity for this book can be found here.