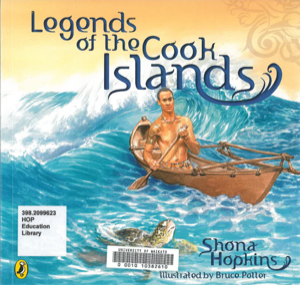 Legends of the Cook Islands
by Shona Hopkins
Auckland, New Zealand: Puffin Books
ISBN: 9780143504078/014350407X
This book is a collection of eight Cook Island myths, which are accompanied by striking illustrations showing clear Pasifika images including flora, fauna and beach landscapes. The Pearls of the South Seas tells the story of how Rongo, the most powerful god, created the Cook Islands, and of how his tears formed pearls, so that he was able to see his beautiful creation at night – a gift from Rangi (the sky) to Moana (the sea). Tangaroa – God of the Sea tells of the might and power of the ocean, and the importance of respecting this powerful resource. Ati and the Water Fairies tells the love story of Ati and his fairy wife Vaine. Together they have a son, Tau, however Vaine wants to return to her underwater home and so leaves her husband and son on the land. According to the myth, all fair-skinned Cook Islanders are descendents of Ati and Vaine. The Legend of the Drum tells of the great battle between Rarotonga and Ra'iatea to find the "best drummers" – as judged by the gods, and the legend goes on to explain why the islands are situated as they are today. In Tangiia and the Sea Turtle, the onu – green sea turtle, believed to be navigator of the seas, guides Tangiia from Tahiti to Rarotonga. Here he becomes a great leader of the people, and it is believed that Tangiia's spirit lives on in the onu today. Ina and the Shark tells of the great love between Tinirau and Ina, and of how they came to be together with the help of Tekea, king of all the sharks. The story tells how sharks came to be known as kings of all the ocean, and of why they have a bump on their heads to this day. In The Stolen Mountain, the people of Aitutaki steal Rarotonga's magnificent mountain, Maru. The Legend of Paikea tells the story of the great fisherman Paikea, who is one day lost at sea and is never to return to his island of Mauke. He travels instead to the far away land of Aotearoa, where he often dreams of returning home on the back of a whale, to his beloved wife Kea. And Kea never stops looking out to sea as she waits for her husbands return – her coral grave is believed to be still on the island of Mauke today.
This book was nominated for the collection for its beautiful artwork as well as its focus on the oral tradition of passing legends down through generations.
A New Zealand Curriculum-linked activity for this book can be found here.